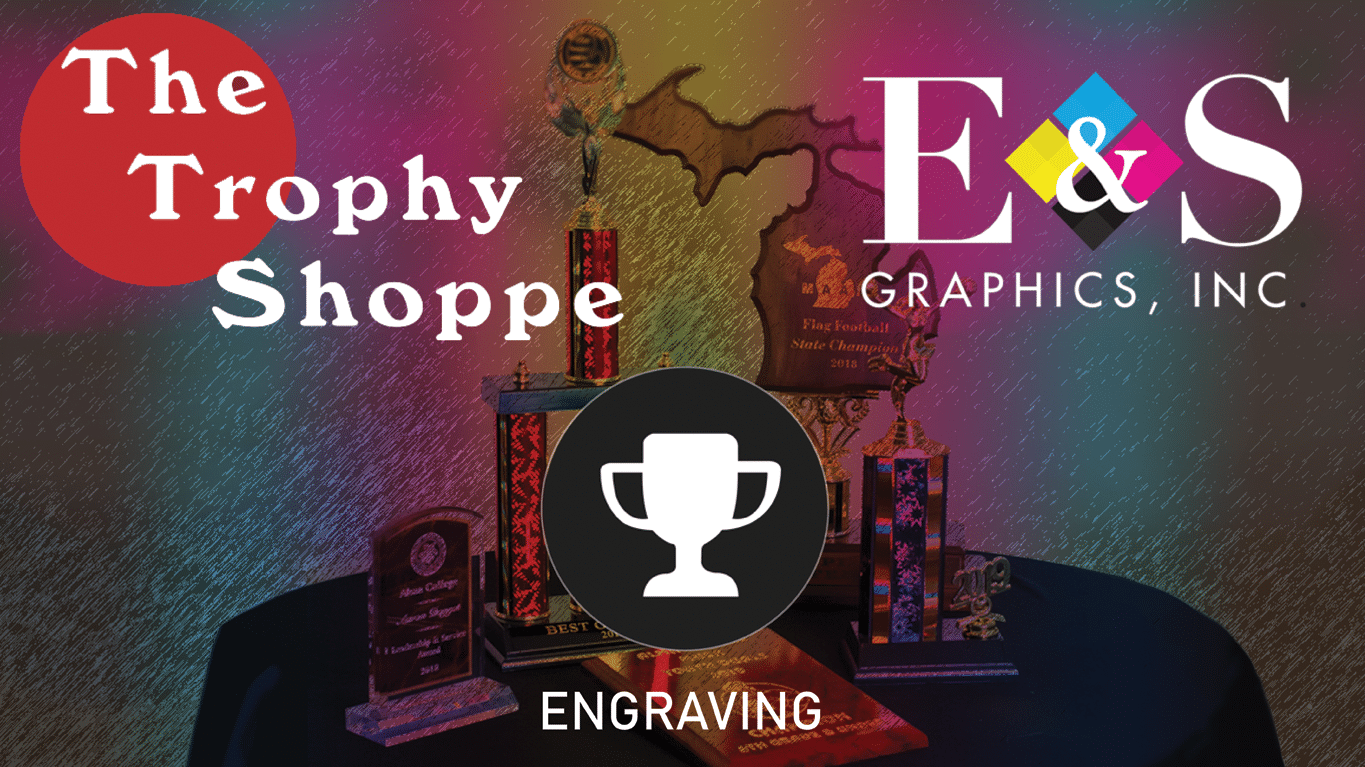 Engraving & Trophy Shop
E & S Graphics Has Acquired The Trophy Shoppe of Alma, MI
Welcome to The Trophy Shoppe by E & S Graphics, Inc., Mid-Michigan's premier source for high-quality, affordable recognition & corporate awards, trophies, plaques, medals, , promotional products, name tags, signs, and more since 1987. Whether you need a single award to commemorate an outstanding team member or hundreds of keychains to promote your business, the Trophy Shoppe will help. Our locally-owned business has provided hundreds of customers across Mid-Michigan with thousands of custom awards, plaques, and trophies. Our awards, gifts, and promotional items are all made from high-quality materials, and customized in house with our engraving and laser capabilities.
To meet the diverse needs of professional organizations, coaches, high schools, youth organizations, sports teams, academic leagues, tournaments, marathons, nonprofit organizations, and businesses, we maintain and have access to a huge inventory of awards and promotional products (both foreign and USA made). For sports teams, we often produce custom awards, such as trophies for the entire team and award plaques or medal for MVPs and other outstanding achievers. These awards typically feature a design that reflects the sport and the team's colors, and are engraved either on the award itself or on a plate that is attached to the award. For non-profits, we've produced pens, key chains and other promotional items to raise awareness of a cause or help with marketing and branding. For businesses, we are their one-stop shop for everything from awards to promotional items to name tags.
There is no maximum or minimum when placing an order, and most orders can be completed in 5-10 business days. Same day turnaround is possible under special circumstances, and discounts are available for sports teams and non-profit organizations.
Below is a list of services we currently offer:
-Engraving and Personalization (flat areas can be engraved on most metals, odd shape and size items will need to be evaluated to see if they will work in our machines.)
Plaques (Wood, Perpetual, Picture)
Trophies
Medals
Acrylic Awards
Crystal or Glass Awards
Resin Awards
Clocks
Gift Items (Frames, Keychains, Pens, Mugs, Wedding and Baby stuff, etc)
Promotional Products
Meet our team of print experts!
Nick Houghton is a proud father, a devoted husband and an active entrepreneur whose passion is helping others out. He currently is the President/CEO of E & S Graphics, Inc. and continuously looks for opportunities of growth for the business.
A few of his specialties are business development, marketing, and sales in which he expanded on while consulting for numerous start-ups over the many years. Much of this experience has been gained over the development of his own businesses. He has been able to help out not only small to mid-size businesses, but also Fortune 500 companies. Nick's goal is to always offer the best available products/services, with ultimate value, which are all served up with the highest quality of customer service.
Nick also brings to the table an out of the box thinking attitude with a drive and ability to execute a goal/plan. Nick's experience in social media marketing, website analytics, engraving and sign/print management can provide you with cutting edge information in regards to developing a pin-point marketing strategy and implementing it.
Nick personally extends his hand out to anyone whom needs or wants advice/help. Nick looks forward to seeing others succeed and grow as people and as professionals.
Outside of E & S Graphics, Inc., Nick can be spotted in a bow stand, on a boat, outside in his back yard gardening or looking for the next house to flip. Request a Quote for an Engraving or Trophy Order
Please give our Engraving and Trophy Shop a call at 989-463-2959 with any questions or to place an order.
Contact Us