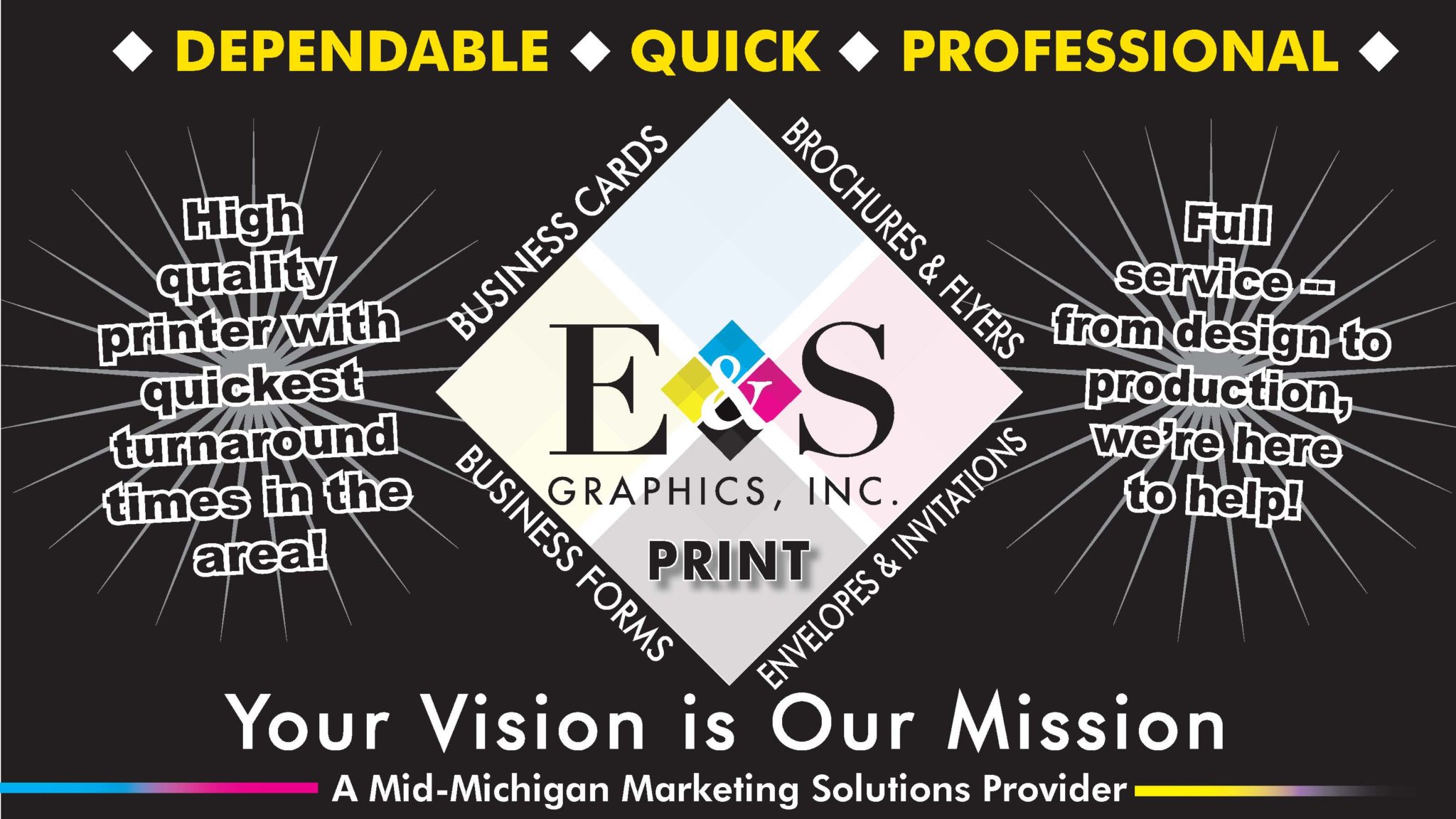 Why use E & S for your printing needs?
Quickest Turnaround in
Mid-Michigan
Once artwork is finalized, we can print most jobs in 1-2 business days. We also deliver to clients int he Mid Michigan area!
Reliable Custom Print Jobs
Made Easy
We're experts in the printing process, from design to print. E & S Graphics can print just about any job, no matter how customized the order.
Excellent Customer
Service & Support
Starting with the concept of the design or layout of your print job, through proofing and edits, all the way to delivery and billing, one of our team members will be there to help.
Contact us for competitive pricing!
Don't see what you need listed above?
No problem! We are a specialized custom print house that has the capacity to fulfill your printing needs. Contact us to speak with one of our sales representatives and they'll provide you with a quote in a timely fashion. If we're not able to print it for you, we're always happy to help advise you on how to get the job printed.
Get A Quote For Your Custom Print Job
Just click the button below and fill out the form, or give us a call at (989) 875-2828, to get in touch with one of our sales reps.
Get A Quote!
A $10 setup charge is applied for jobs without print ready artwork
Design and layout services are $70/hour
Let's Get Started!
Generate design

Sketch, outline or describe in writing your design/concept

Decide on Budget & Deadline

Determine budget and deadline for project

Order Quantity

Determine quantity needed for order

Select Options

Review and select options, such as type of paper, folds and perforations, sizes, color, one-sided vs. two-sided, etc.

Quote

Approve quote to begin preparing the artwork

Provide Artwork

Produce a PRINT-READY artwork file

Proof

Review proof and submit feedback for edits

Modify For Production

Repeat previous step until proof is finalized and ready for print production

Print

Job is printed and customer is notified via phone and/or email

Delivery

Completed job is either shipped, scheduled for delivery or placed at our pick up counter
Meet our team of print experts!
Nick is an active entrepreneur whose passion is helping others. A few of his specialties are business development, marketing, and sales in which he expanded on while consulting for numerous start-ups. Much of this experience has been gained through developing his own businesses. He has helped not only small and mid-size businesses, but also Fortune 500 companies.
Kaylyn was born and raised in Breckenridge, graduated from Breckenridge High School in 2010 and then attended CMU. She is very familiar with the Mid-Michigan business landscape, which gives her much to offer our client base. Kaylyn has been in her current role as Print Production Manager since she joined the E & S Graphics team in 2015.
Scott graduated from CMU with BA in Journalism in 1978. In 1979 With partner Eddy Horton started the Print Shop, commercial printers in ithaca, which evolved into E&S Graphics, inc. Sold business to Nick Houghton in 2016 and currently still working in the print department.
Bryan graduated from Ithaca in 2014 and then from The Los Angeles Film School in 2016. With over 6 years of graphic design experience, Bryan designs all of the signs and decals at E&S. He also helps with the production of signs and large format printing.
Jan started working at E&S Graphics in September of 1987 when we were located in downtown Ithaca across from the courthouse. She became the Office Manager in 2000. Her job consists of a wide variety of responsibilities primarily for the print side of E & S Graphics.